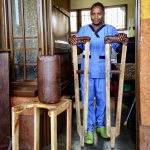 A Day at the Rehabilitation Ward in DRC
Category:

We treat
Place:
Democratic Republic of Congo – Hospital in Ntamugenga
The rehabilitation ward at the hospital in Ntamugenga opened six months ago. We hired a physiotherapist, Patrick, when we were treating five-year-old Jonathan for cerebral malaria. After a several-day fight for his life, his condition stabilized but it was still not good. We had reached a standstill in our treatment. The boy's life was no longer in imminent danger, but he still could not move, had difficulty swallowing and could not interact with his environment. That's when we found Patrick who began to work with Jonathan and continued for many weeks. The rehabilitation has had incredible results. Today, the boy can eat, walk and talk. Patrick is with us every day and has seen several success stories similar to Jonathan's. He works with any patient, who requires his treatment. We've converted a room into his office but in order for it to become a fully operational rehabilitation room, we still need to equip it with the necessary equipment and devices.
<-- ActiveCampaign Monitor Code -->