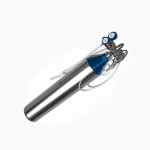 Oxygen for a hospital patient
Category:

We treat
Place:
Democratic Republic of Congo – Hospital in Ntamugenga
To provide children suffering from malaria with oxygen instead of transporting them to another hospital, we need fuel for our generator. One hour of operation of this machine costs PLN 10, and such is the cost of one hour of breathing. Human life is at stake here – human life, which can be saved thanks to oxygen therapy.
ONE HOUR OF OXYGEN THERAPY 10 PLN
You support Good. Thank You!