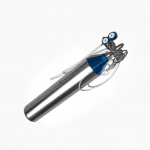 Oxygen for a hospital patient
Category:

We treat
Place:
Democratic Republic of Congo – Hospital in Ntamugenga
In hospitals, the patients who most often receive oxygen are children. Malaria, pneumonia, severe infections resulting from starvation… Without oxygen therapy these illnesses would often prove fatal. An hour of oxygen therapy costs 10 PLN. Here the stakes are often the highest: human life, which thanks to oxygen therapy can be saved.
ONE HOUR OF OXYGEN THERAPY 10 PLN
<-- ActiveCampaign Monitor Code -->