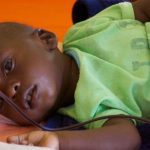 A bag of blood for transfusion
Category:

We treat
Place:
Democratic Republic of Congo – Hospital in Ntamugenga
Some patients, particularly children treated from serious malaria, require blood transfusions. The blood donation program in the area is still in its infancy and it will not start working soon – if not for other reasons, due to a serious deficit of proper donors (the local population is malnourished, lack proper medical examinations, and many are sick). Therefore, we need to purchase blood from the hospital in Rutshuru.
Annually, the doctors at our hospital conducted around 750 transfusions. Most blood was given to children suffering from very serious malaria, which is now raging in Northern Kivu. The people are trying to cope on their own, but when the symptoms become alarming and signify the last stage of the disease, they bring their loved ones to us, asking for help. The cost of one bag has been 10 USD. As most inhabitants of Northern Kivu have less than one dollar per day to make a living, none of the hospital's patients would be able to pay for their treatment. You have been paying for all transfusions at the hospital in Ntamugenga for several years now. It is not hundreds, but thousands of people who owe you not better living conditions, but their lives. If the demand for transfusions remains at the same level – and it seems that it will – we may need even 3000 PLN per month of additional money.
<-- ActiveCampaign Monitor Code -->