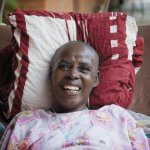 A set of bedding
Category:

We treat
Place:
Rwanda – Hospice
A product that seems essential to every place we call home. For our patients, the hospice is their home, and they need fresh and clean bedclothes, which can hardly be found here.
You are paying for one set of bedclothes.
You support Good. Thank You!