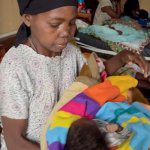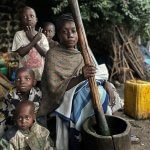 A meal for a single mother fleeing war
Category:

We feed
Place:
Democratic Republic of Congo – Nutrition center
In the Democratic Republic of Congo, there is an ongoing conflict between rebels and the army that is destroying farmland and threatening entire families. Single mothers who have been internally displaced are in a dramatic situation. Many of them are trying to feed their infants, even though they themselves are on the verge of hunger disease and their milk is unable to nourish their children. All this is the result of fighting, destroyed water sources and crops. These women have lost everything.
Your donation covers basic products with which a woman can prepare a meal: flour to make gruel, sugar, oil, rice and beans. We often supply women with charcoal and pots so that they can prepare their own meals. The poorest women in the nutrition centre additionally receive vegetables, bananas, fish and meat, which are very expensive here (1 kg = $5).
Donate a plate of food that is a lifesaver for both woman and child. Support is urgently needed!
<-- ActiveCampaign Monitor Code -->