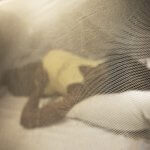 Mosquito net
Category:

We treat
Place:
Democratic Republic of Congo – Hospital in Ntamugenga
The villages around Ntamugenga are affected by malaria. The region proves how dangerous the disease is, and how easy it is to get infected. It is a threat to the entire continent. Every minute, a child dies in Africa due to malaria and its complications. A mosquito is the most deadly creature in the world. The simplest way to avoid mosquito bites is a net, which most of the village inhabitants simply cannot afford.
You support Good. Thank You!