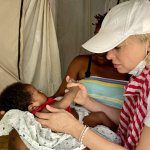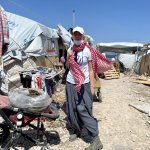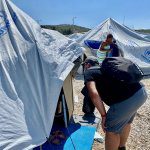 Medical assistance for a refugee in Lesbos
Category:

We treat
Place: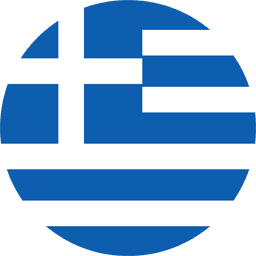 Greece – help for refugees on the Greek island of Lesbos
We are at camp Moria 2 on the Greek island of Lesbos not only to feed the hungry, but also to heal, relieve pain and to respond to the most basic human need, which is access to medical care. Our team is  accompanied by Ola, a paediatrician, with whom we visit tents around the camp.
In one of them we meet Mimi. She is a freshly-baked mother. Her child, Benny, was born three weeks ago. As a result of a poorly received delivery, the baby suffered a paralysed brachial plexus. However, he was discharged from hospital only a few days later and ended up in a tent at the camp with his mother. Mimi does not know what to do next. She allows Ola to examine the toddler and asks for a pram because she doesn't even have a place to lay her baby.
A few tents away, Mona came out to see us. She fled war-stricken Syria with her four children.  We wanted to hear her story, but the bleeding wounds are yet to heal. "The memories of the explosions are still making my mind burst," she says, with tears in her eyes. She is not coping and just cannot take it anymore. She tries to erase everything from her memory. She has been in Moria 2.0 on the Greek island of Lesvos for several months. She cannot sleep; the piercing pain in her back tears her from her sleep like the worst of nightmares. This is a daily occurence. She wishes the pain was gone but it is in fear that she seeks advice and medication because once the pain is gone, it will be haunting memories waking her at night.
We brought Mimi a brand new pram, Ola is examining the problem with little Benny's arm and we supplied Mona with anti-inflammatory medication and painkillers. We have been able to do this thanks to you. Your support can already be felt by the families we visit!
Help us continue relieving the pain of people who have gone through too much in their lives!