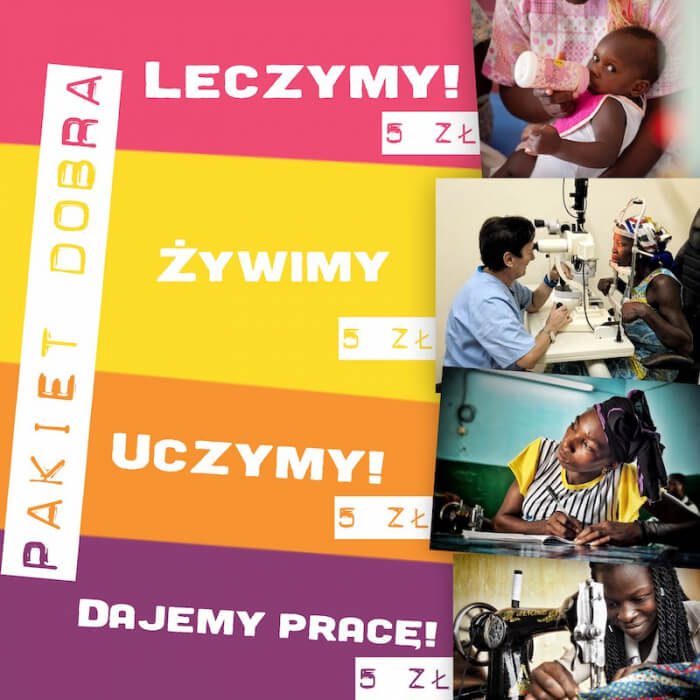 CARE PACKAGE
Category:

We feed
Place:
Democratic Republic of Congo – Nutrition center
By one click, you can now give a five to four protégés of our foundation, in four different parts of the world, responding to four very different needs. The Good Package treats, feeds, teaches and gives jobs. Together with you, we have been manufacturing good in those corners of the world, in which evil has taken away hope, health, joy and life.
1. Feeding. Saving the youngest from hunger in the Democratic Republic of Congo.
2. Treating. At our hospital in Ntamugenga, more than 30 000 patients are treated every year, palliative care is provided for several dozen patients at the hospice in Rwanda, the pharmacy in Togo provides medications for more than 3000 people who could not afford them otherwise.
3. Teaching. Providing new opportunities for 56 girls in Senegal, teaching women in Burkina Faso to read and write and giving them solid professions.
4. Giving jobs. In Burkina Faso, we are establishing a cooperative movement, we have funded a vegetable garden, a sewing workshop and a mill.
A lot is going on around here, and even more can happen thanks to you. Don't disregard us tomorrow, when you start shopping online. Put this one unique product in your cart: 4 x 5 PLN for each of the pillars of our activity. Buying this package, you will do more good – and in four dimensions at once!
<-- ActiveCampaign Monitor Code -->