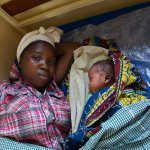 Layette for newborn children
Category:

We feed
Place:
Democratic Republic of Congo – Hospital in Ntamugenga
Imagine you're expecting a child. You prepare for this for months, you visit stores and browse for products online, getting your layette ready. You begin quite early to get everything you will need: from infant clothes, through diapers and cosmetics, all the way to the baby cot and a carriage. When the due date is coming close, you get into your car with a bag that contains everything that you and your child will need during your first days together.
Young women expecting children in the Democratic Republic of Congo, in the very poor and still troubled province of Northern Kivu, have no money for a layette like this. They do their best to get prepared – but all they have is a shawl, in which they plan to wrap the baby after it is born. To reach our hospital in Ntamugenga, they start a few days early, because they don't have cars and they are forced to plan a long walk to the hospital. They take no bags with them as they have nothing they could put inside. Their joy is mixed with fear. They don't know if they will reach their destination, live through labor, if the child will be born healthy…
When they finally get here, they are safe. Here, at the hospital, they will get the most needed things for their baby. Their layette has been bought by Someone very far away, Someone with a really big heart. Thanks to this Person, at this very special moment, when their child is born, the women don't have to worry about material things. They are taken care of. They can happily meet their newborn.
Do you want to become this very special Someone? Provide a layette for an infant, which is being born right now in the Democratic Republic of Congo; give somebody a slightly easier start in life. The layette includes baby soap, physiological salt, a warm blanket and baby powder. Sometimes we also provide a very simple baby bath and some food for the mother, if we can see she's too poor to be able to take care of herself.
<-- ActiveCampaign Monitor Code -->