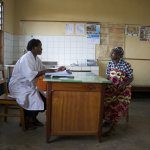 Doctor/ nurse visit
Category:

We treat
Place:
Democratic Republic of Congo – Hospital in Ntamugenga
Every year, doctor John and his personnel provide about a dozen thousand consultations. They examine patients and prescribe treatment for all kinds of diseases: infections, malnutrition, hypertension, injuries. There are queues standing in front of their offices from dawn till dusk, even though people sometimes need to walk many kilometers to get help. The visit cost has been calculated to cover only the associated costs:  salaries of the doctor and the nurses (which are dramatically low), dressing materials, basic medications. Even though the price is so low, many of our patients still cannot afford it. Some may put away another doctor appointment due to financial reasons – until it's too late.
You support Good. Thank You!