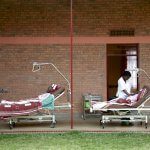 Adult diapers
Category:

We treat
Place:
Rwanda – Hospice
The condition of our patients is often such that it's hard to imagine everyday care without disposable adult diapers. Thanks to these, our personnel can take care of the patient's hygiene, physical and emotional comfort (what was a private aspect of "normal" life remains to be such). To give this comfort to the sick, the hospice has to face substantial costs. Nevertheless, these are necessary, because even if we are not able to save someone's life, we can save their personal dignity and self-respect and save them the suffering.
You are paying for a single piece of adult diapers.
You support Good. Thank You!