Democratic Republic of Congo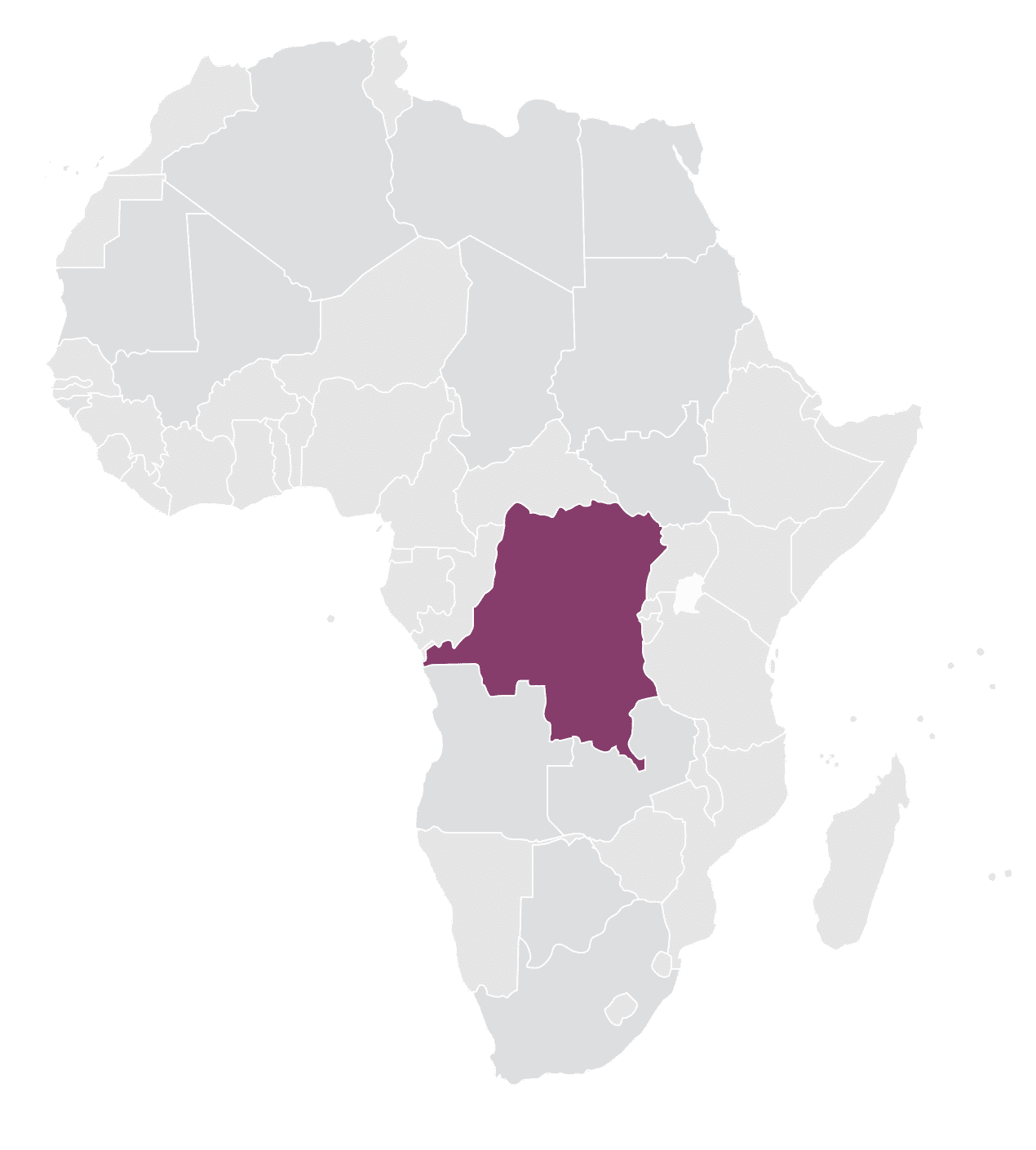 The second largest country of Africa, full of paradoxes. On one hand, it is rich in natural resources (including cobalt, copper, coltan, crude oil, diamonds, gold); on the other hand, its inhabitants are among the poorest in the world. For decades, the DRC has been suffering from prolonged conflicts that have led to one of the most severe humanitarian crises in the world.
Overview:
15,6 million people – 18% of the population suffer from hunger
3,4 million children under 5 years are acutely malnourished
41,8% million children under 5 years are stunted
63,2% of children below 5 years of age and 41% of women  15-49 years are anemic
We take in at least
100
children a week in our nutrition center
In 2019, we have saved approximately
1 000
people from starvation
Can you imagine what it's like to be unsure whether you will have enough food for tomorrow? Picture a life consisting of many such days  – a life in a state that deprives one of the ability to think straight and to think about anything else other than food. Hunger robs people of their health, dreams and sometimes life. It has created more victims than wars and illnesses. Every five seconds, somewhere in the world a child under the age of 10 dies of hunger. Today one billion people are hungry.
The whole world is fighting the coronavirus pandemic but it's also on the brink of a hunger "pandemic." Even before the virus from Wuhan started spreading around the world, experts estimated that 2020 would bring the largest humanitarian crisis since the Second World War due to the military conflict, including in the Northern province of Kivu in the Democratic Republic of Congo, the crisis in the Sahel, natural disasters brought on by climate change, and the locust plague making its way through Africa.
Maria is from the village of Kalengera, located a few kilometers from Ntamugenga, where we have been financing a nutrition center for six years. When her child was born, the father disappeared for good, leaving Maria without the means to survive. She lost weight and started becoming weaker. She'd never had enough food, never been to the city, she didn't have electricity or running water. She lacked gas for cooking and a bathroom, had never watched television, read a book, drank Coca Cola or tried pizza. When she was left alone with her son Fiston for the first time, she felt more than ever that her lack of food might rob her of what little she does have.
Maria did not have enough food for the child and there were days when she couldn't afford even one meal a day. Afraid for the baby's life, she arrived at the Ntamugenga feeding center. For the next several weeks, we gave her food rations that helped her recover. Little Fiston is now 6 months old and has already lived through a very serious health crisis. Child hunger is very different from adult hunger. An adult can rebuild strength but a child under five who doesn't get enough to eat, will experience stunted development, and will never grow into the human he or she was supposed to become. We see several dozen such children arrive in Ntamugenga every week
Today, Fiston has a smile on his face. He's Maria's only joy in this world. Good Factory is responding to the burning issue of hunger by providing real, tangible help to people suffering today.
Hunger is the most deadly of all diseases and paradoxically the easiest one to prevent. It doesn't require vaccinations or medicines. All it takes is providing the body with essential nutrients.
We've been feeding the poorest residents of the Democratic Republic of Congo, Mauritania, Burkina Faso and Bangladesh for years. We are now facing an even tougher challenge. At the end of 2019, 135 million people around the world suffered from hunger. This number is expected to double in just the next few months to 265 million people by the end of 2020. The economic effects of the ongoing pandemic could make the situation even worse. Having a future is a privilege only afforded to those who can afford to eat well. In the Democratic Republic of Congo nearly 16 million people, most of them children, can only dream of such a luxury.
Help us make a change and feed a hungry child today!