Democratic Republic of Congo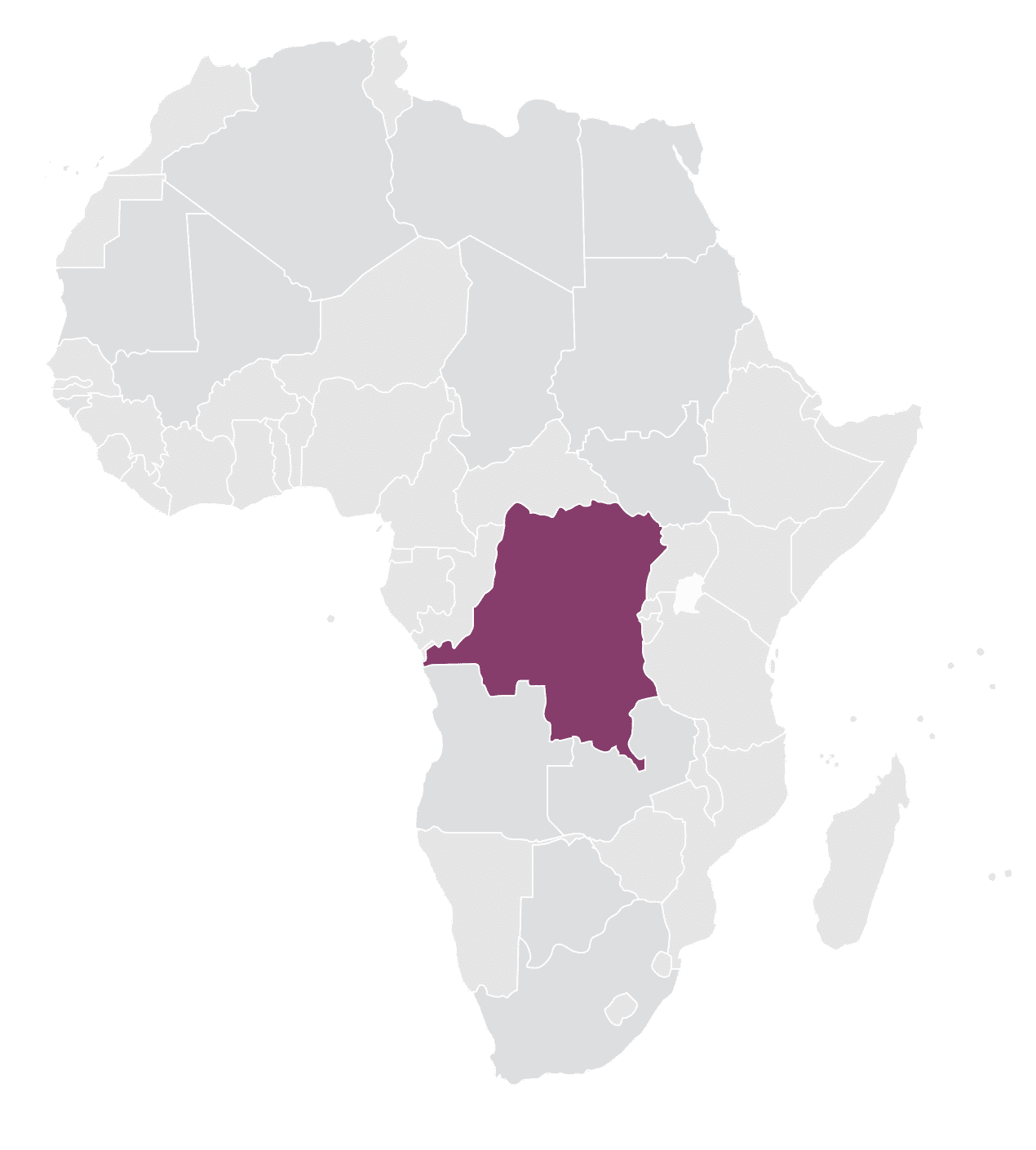 The second largest country of Africa, full of paradoxes. On one hand, it is rich in natural resources (including cobalt, copper, coltan, crude oil, diamonds, gold); on the other hand, its inhabitants are among the poorest in the world. For decades, the DRC has been suffering from prolonged conflicts that have led to one of the most severe humanitarian crises in the world.
Overview:
15,6 million people – 18% of the population suffer from hunger
3,4 million children under 5 years are acutely malnourished
41,8% million children under 5 years are stunted
63,2% of children below 5 years of age and 41% of women  15-49 years are anemic
In 2022, we have saved approximately
600
people from starvation
We take in at least
80
children a week in our nutrition center
Every week, we help about 250 children suffering from malnutrition or hunger disease in the Democratic Republic of Congo. This year, we have treated as many as 876 children suffering from moderate malnutrition and 412 children with acute malnutrition. In the case of the latter, we can certainly say we have saved their lives.
The cost of one meal is PLN 10. To us, it's just as much as a cup of coffee or a glass of juice. For them, it is the only chance to survive.
The humanitarian crisis in the Democratic Republic of Congo is getting worse. Every day, several dozen kids – victims of poverty, the crisis caused by rebellions and bandit attacks, seek help at our nutrition center. We have a chance to save all of these little ones from death of hunger.
How does the nutrition center in Ntamugenga work?
We help the youngest with diagnosed malnutrition, which can lead to hunger disease that poses a threat to their lives. We treat clinical malnutrition at one of our hospital wards. At the nutrition center, the children get four meals a day and food for those days which they spend in their villages before the next visit.
The nutrition center in Congo (DRC) is usually a very calm place, because the children who have lost their appetite also lose their joy and energy. Luckily, thanks to YOU, this joy and energy are coming back!!!
W czasie, gdy dzieci spożywają posiłek, w szpitalnym ogrodzie szkolimy rodziców z hodowli roślin. Poznają oni także najważniejsze zasady dietetyki. Te działania mają na celu zapobieganie kolejnym przypadkom niedożywienia wśród dzieci. Nad ośrodkiem czuwają dwaj wykwalifikowani pracownicy, kucharka oraz specjalista od żywienia. Dzięki bezpośredniej bliskości naszego szpitala dzieci i ich matki przebywające w ośrodku dożywiania zostają poddane badaniom kontrolnym.
When the children eat, we teach their parents to cultivate plants in our hospital garden. They also get familiar with the basic principles of nutrition. In this way, we hope to prevent further cases of malnutrition among children. The center is supervised by two qualified employees, a cook and a nutrition specialist. Thanks to closeness of our hospital, the mothers staying at the center with their children undergo medical checks.
The nurses regularly visit their patients at home. The visits are unexpected and their aim is to check whether the guardians have been following the recommendations of the nutrition center. We check whether the parents trained at the hospital garden have established small home gardens of their own to enrich the diet of the family. The nurses also check whether the food rations received from the nutrition center are really given to children that have just recovered. They weigh and examine the children, telling their parents and guardians that they would be back with another unexpected visit.