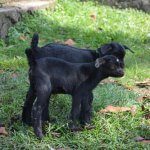 Goat
Category:

We feed
Place:
Democratic Republic of Congo – Nutrition center
At the hospital in Ntamugenga, the sisters are running a small farm which provides basic food products for the nutrition center. Goats, which are very popular in Congo (DRC), are a good investment. They will supply milk for the infants ward.
You support Good. Thank You!